The History Of Ballet
Many children dream of being a ballerina and dancing gracefully across the stage. Ballet dance classes are a great way to introduce children of all ages to ballet and dance, teach them new movements and social skills. Ballet actually has a fascinating history that still plays a role in choreography and performances today. The dance has changed over time, but many of the traditional aspects still abound today.
Understanding how ballet came to be and has evolved over the years can help dancers better understand their craft and the history they become a part of when they learn ballet.
Historical Beginnings of Ballet
Ballet has been around for centuries and has transformed over time. Ballet dates all the way back to the Italian Renaissance during the 15th century. In fact, the word ballet comes from the Italian word ballare, which means "to dance".
In the 1400s, noblemen and women attended lavish parties and weddings with extravagant music and dancing. At these events, they learned the dances and participated themselves. The ballet dancing of the 1400s was very different than what we know today, with reserved and dignified movements performed in regular clothing and flat shoes.
Ballet moved to France in the 16th century, largely due to Catherine de Medici, the wife of King Henry II, who began funding ballet in the French court. Catherine threw large festivals that showcased dance, costumes, music, and poetry.
The festivals helped spread the popularity of ballet and introduce it to new audiences. Ballet movements at that time were still relatively simple, with simple turns and promenades, nothing like the choreography that would later come to be. The costume began to evolve into ornate clothing and accessories.
Ballet was still relatively obscure until King Louis XIV began to popularize it in the 17th century. He loved to dance and would often participate in many ballet festivals and performances. With King Louis' support, ballet became an elevated profession that required advanced training, instead of a dance done by the masses.
It was also during this time that ballet became standardized, with the same steps performed by multiple groups instead of each group making up their own movements.
When Was Ballet Invented
Ballet's strongest roots are to France in the 1600s. The first ballet academy opened in Paris in 1661, although ballet had been performed casually before that time.
It was at the first academy, called the Académie Royale de Danse, that teachers created the five basic positions that are still used today. It was during this time that ballet really began to take hold and transitioned from something that was done during royal gatherings to a true performance that takes place on a stage.
Ballet took the stage in 1681 with a group of professional dancers. The company performed in Paris and around France before it began traveling to perform for nobles and royalty throughout Europe, which greatly spread the popularity of ballet.
In the 1700s, females started becoming more prominent in ballet as societal expectations that women wouldn't perform were swept aside.
Ballet continued to grow in France until 1789, when the French Revolution swept through the country and closed the Royal Academy of Dance.
However, the school continued operating underground in secret until 1929, when it debuted as the Paris Opera Ballet.
Ballet Moves To Russia
Ballet's roots may be in France, but it truly began to blossom in Russia in the mid to late 1800s. Russia soon became the center for the growth of ballet. Popular classical ballets like Giselle and La Sylphide were first performed towards the beginning of the 19th century and had a lasting impact of the art, music, and dance of the Romantic Period.
Performances became more involved with dramatic costumes, sets, and even pyrotechnics, which helped draw a larger audience.
As dance became more popular, ballet started incorporating pointe, or dancing on the tips of the toes. Up until La Sylphide's debut in 1832, pointe shoes had been overlooked as ungraceful and strange, but the show's choreography was designed to showcase the beauty of dancing en pointe.
The movements soon expanded, and pointe shoes became standard piece of a ballerina's wardrobe.
Ballet continued to become more popular, especially in Russia around the middle of the 19th century. This is when popular ballets such as Swan Lake and The Nutcracker were first introduced.
These ballets showcase classical ballet technique, including pointe work and high extensions, and used dance to tell the story.
Ballet In the Modern Age
In the 20th century, ballet choreographers began experimenting and pushing past traditional styles to expand the dance—but it wasn't always welcomed. Sergei Diaghilev worked with composer Igor Stravinsky on The Rite Of Spring.
Today, the ballet is recognized for its innovation and beauty, but when it was introduced in 1913 audiences created quite the uproar because the dissonant music and sad story was far different from what they were used to in a ballet.
The 20th century brought neo-classical ballet, which popularized ballets without a strong plotline. Instead of telling a story, the goal of neo-classical ballet is to use dance to celebrate music through movement and emotion. Ballet companies also expanded abstract and contemporary ballets. During the 1900s, ballet expanded to more countries around the world, including the United States.
Ballet blossomed in the U.S. when prominent dancers from leading European ballet companies crossed the Atlantic to share their talents and perform. In 1937, the American Ballet Theater was created, followed soon after by the New York City Ballet.
Today, ballet takes many forms. Classical and romantic ballets are still performed to audiences around the world. At the same time, many ballet companies focus on innovative choreography and showcasing new movements with unique musical choices.
Modern ballet choreography emphasizes strength and athleticism, while still maintaining the traditional gracefulness and musicality. Famous ballets from centuries ago are still performed today to audiences across the world, as are new ballets that feature similar movements but with more modern music, costumes, and storylines.
History of Ballet Costumes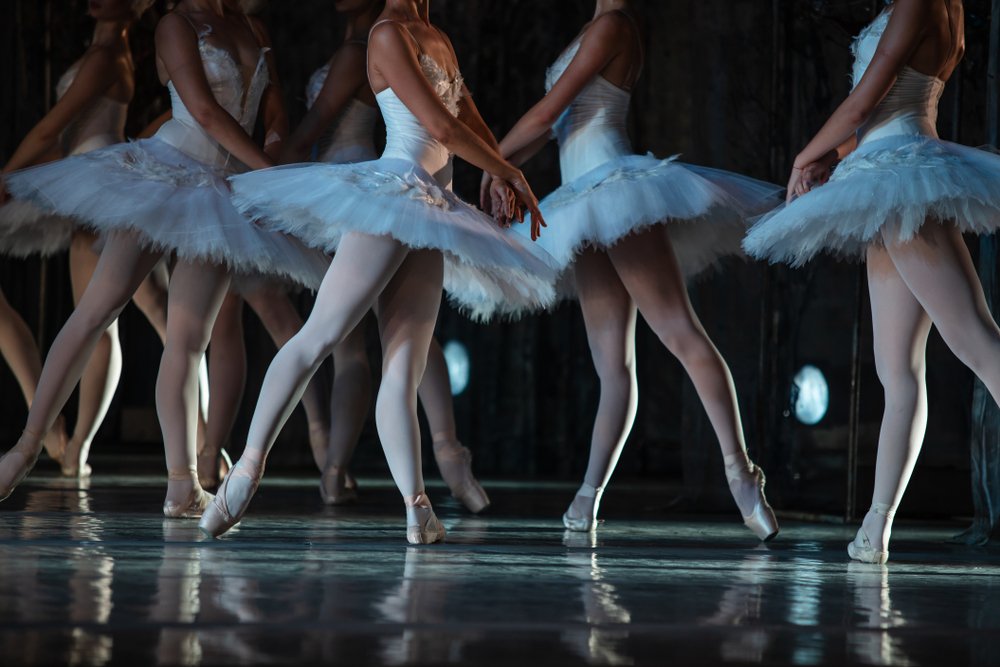 When ballet was first performed in the 1400s, it didn't use any special costumes. But as ballet grew and became more popular, the costumes became an important part of the performance that not only added to the story but showcased the dancers' movements.
As ballet began to grow and be performed for nobility in the 1500s, the dancers were predominately men who wore elaborate masks and headdresses. In many cases, the costumes were more important than the dancing itself.
Involved brocaded clothing and headdresses were beautiful, but they were difficult to move it, which caused the dance steps to be relatively simple. In the early centuries, ballet shoes were simple and included a slight heel.
In the 1800s, ballet became much more feminine and the idea of the ballerina was born. Costumes began to change to reflect the romantic storytelling and to highlight the female form.
During the 19th century Romantic Period, what many people view as the traditional ballet costume was first introduced—a calf-length full skirt made of tulle. These costumes were designed to be light and airy and give the impression of flight as dancers leapt across the stage.
However, some audience members were shocked because the costumes showed women's ankles, which was considered taboo at the time. Ballet tights were invented in 1790, which allowed dancers freedom to perform more steps, and pointe shoes debuted in 1820.
As ballet choreography became more advanced and involved towards the end of the 19th century, the classical tutu became popular. This tutu is shorter and stiffer than the romantic tutu and designed to showcase a ballerina's legs as she performs complicated movements.
The shorter, classical tutu remained popular through the 1900s. At the same time, many ballerinas started wearing contemporary street dress in their practice and performances in an attempt to relate ballet to real modern life.
In the 1950s and 60s, ballerinas began wearing Lycra spandex leotards that allowed for comfort and ease in performing a variety of movements. Today, ballerinas wear a mix of old and new—comfortable leotards and more traditional tutus and dresses.
Ballet has also become incredibly popular around the world. There are professional ballet companies in nearly every city and country across the world, and hundreds of thousands of children, teenagers, and adults participate in amateur and recreational ballet classes.
What started as a performance for the European elite can is now performed by children and adults across the globe. Dancers of all skill levels can participate in this rich history by learning ballet. Contact A Dance Place today to learn about our wide array of ballet classes.