Questions to Ask Before Your Child Starts Dance
Dance is a great activity for children of all ages. With benefits including structured physical activity, improved social skills, and increased creativity and body awareness, there are many reasons to put your child in dance lessons. But embarking on a new activity brings many questions from parents. This article covers all the questions to consider before you sign your child up for dance.
What To Know Before Your Child Starts Dance Class
Putting your child in dance lessons can be uncharted territory for many parents. A child's excitement of starting a new activity can also be matched with uncertainty and nervousness. Being informed can help put those fears aside for both parents and children. Here's what you need to know before your kids start dance lessons.
Is your child ready for dance class?
Many dance studios accept students as young as two or three years old. Before you put your child in dance classes, consider if they are really ready to enter the world of dance. Students should be ready to participate and listen to a teacher. They should have at least some control of their body and be able to follow instructions. Many studios require that students are potty-trained.
What can you expect at a dance class?
Each studio and type of dance lesson is different, but most follow the same basic routine. Most classes start with stretching and warm-ups to get the body moving. From there, students may practice certain movements and have instruction time on specific steps and techniques. They will then likely use those steps in a choreographed dance and work through the routine with music multiple times. To see the format of a class at your studio, ask to observe a class or take a sample class before signing up for the full lessons.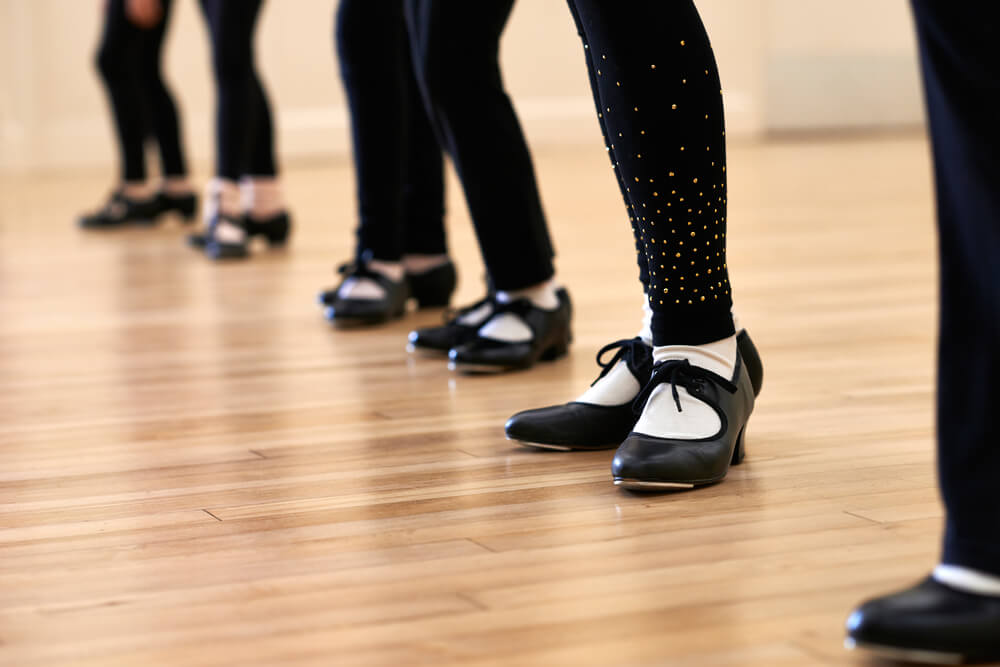 What should they wear?
It can be tempting to put your child in a fluffy tutu and sparkly leotard for their first dance class, but most dance studios save the elaborate costumes for performances. Check with the studio to see if there are any requirements of what students need to wear to class. Some studios mandate that students wear solid leotards or certain colors of tights, while other studios may have a certain t-shirt or skirt students must wear. If the dance studio doesn't have a uniform, stick with something simple like a leotard, skirt, and tights. Simple clothes minimize distractions and help the teachers see how the children are moving without bulky clothes in the way. Check with the studio about appropriate dance shoes for your child's specific class and if they have to be a certain brand or color.
What is the dance studio etiquette or routine?
Every studio has its own routines that keep things running smoothly. Before your child starts lessons, talk to the studio owner or other parents about what is expected. Some studios even have a parent handbook. Find out about the studio rules for parents and students, how early to get to lessons, the policy about missing lessons, when tuition is due, and any other questions you may have.
Should you stay and watch?
Some studios allow and encourage parents to stay and watch the lessons, while other studios want to minimize distractions and ask parents to leave or stay in a certain waiting area. Unless your child is in a parent and tot class, stay off the dance floor and allow the teacher to do their job and take control of the class.
How should you support your dancer outside of class?
Talk to your child about dance lessons before they start. Explain to them what will happen and the rules for the class. If possible, try to visit the studio or meet the teacher beforehand. Encourage your child to ask questions so that they feel comfortable during their first lessons. As they get more comfortable dancing, encourage them to show you what they've learned and practice their skills at home. Some studios send home music for students to practice their routines. Encourage your dancer to follow healthy habits, including getting lots of sleep, drinking plenty of water, and eating a balanced diet.
Dance lessons are a fun activity for children, and taking the time to be prepared before classes begin can make the experience smoother for both parents and children.
What to Ask a Dance Studio Before Signing Up
Finding the right dance studio may seem overwhelming with so many excellent places to choose from, but with just a little research you can find the best fit for your little dancer. Whether your child has taken dance classes before or this is their first time, it is helpful to know the most important questions to ask when choosing a dance studio.
What Type of Dance Lessons Are Available?
Your child may dream of dancing classical ballet or they might be better suited for the free movement of hip-hop, but not all studios offer both. Before you register with a studio, make sure that they offer the type of dance your child is most interested in. If your child doesn't know what style of dance to try, look for a studio that offers a variety of dance lessons for them to try.
How Many Students Are in Each Class?
The benefits of dance for children are undeniable. However, to make the most of the experience, you want your child to feel excited and engaged. Some children will feel more comfortable dancing next to a large group of their peers, while others thrive in smaller groups. Make sure to ask about class sizes to help you pick a studio where your child will receive the instruction that is best suited for them. Smaller class sizes can provide more personal attention, but larger classes may challenge a child to go outside their comfort zone. The best size will depend on your child, but talking to a dance studio about what they offer and why can help you make the decision.
When Are the Classes You're Interested in Offered?
As much as you'd like your child to dance, they won't be able to do so if the class schedule doesn't align with your own. If you've found dance studios you're interested in, take the time to check their website for their class schedule and compare it to your own. Make sure that you also make note of the class length and if you are allowed to observe.
Are There Recitals or Competitions?
The vast majority of dance studios host an annual dance recital to showcase the hard work and talent of their students, while many others choose to participate in a dance competition instead. If the dance studio offers either, be sure that you are well informed about what that will entail. Questions to ask may include the following:
-What are parent responsibilities for either?
-When do recitals take place?
-Are costumes included or do those require an additional fee?
-Is there an additional cost for participation in competitions?
What Are the Qualifications of the Studio and Experience of the Instructors?
If you would like your child to master the individual technique and artistry of a style of dance, it is very important that teachers have proper training and background. If you want your child to fall in love with dance, you want a teacher that is passionate about dance and good at leading children. Ask the studio about their curriculum along with the knowledge and experience of their instructors, but you may also ask what their focus is as a studio to help you as choose the best dance lessons for your kids.
What Class Should You Sign Your Child Up For?
As you look over the types of dance offered at the studio and the schedule of classes, make sure that you also double-check the age ranges for each. Studios will vary greatly on which type of dance lessons for kids are available for the different age groups. There are also multiple levels for different styles. You can take a look at the guidelines listed on their websites, but you can also speak to the studio directly to help you decide on the best class for your son or daughter.
How Much Does Do Classes Cost and What Additional Fees Are Required?
You know that you have to pay for the classes, but every studio differs in their rates and additional fees. Be careful that you ask for detailed information about cost including
-Registration
-Annual Dues
-Lesson Costs
-Recital, Competition, or Performance Fees
-Costume Costs
-Cancellation Fees
-Required Attire (Shoes, leotards, etc.)
What to Know About Taking Multiple Dance Classes
One of the most common questions from dance parents is, "Should my child take more than one dance class?" There's no set answer, but here are things to consider to help you answer the question.
Start With One Class
Most young children start by taking one class, which introduces them to the format and the expectations of listening to a teacher and following instructions. It doesn't matter what kind of dance is taught at the first class because the focus is on introducing children to music and movement and the creative world of dance. Classes for younger children tend to be shorter because their attention span is shorter and they may run out of energy faster. One class may be enough for a two-year-old to five-year-old, but there isn't anything wrong with adding another weekly class at that age. After they understand the basic format of a dance class and are able to participate and listen, they can benefit from another weekly class if they enjoy their first class.
Adding More Classes for Older Children
Once a child has been dancing for a few years, usually around age six or seven, they can add another weekly class to expand their dance knowledge and experience. Many types of dance complement each other, such as ballet and jazz. A child who takes both classes can expand their skills in both areas because they teach coordinating skills. Taking different styles of dance classes can expand their knowledge and help them develop into a better all-around dancer much faster than they would by only taking one class at a time.
Introducing children to multiple styles of dance also helps them learn to move their body in different ways and develops different muscle groups. A child might not know they are skilled or interested in ballroom or lyrical dance, for example, if they didn't add an additional class in that area.
Once a child is well established in dance and has a relatively high skill level, they can continue to add additional classes. Each additional class adds to their repertoire and increases their skill level and ability to learn and retain choreography. Of course, older children can also understand the time commitment that comes with additional dance classes and should make the decision based on their dance goals and interest levels.
Other Considerations
However, that's not to say that every child needs to take multiple dance classes a week. There are other considerations, including the interest level of the child. Some children are only interested in one type of dance or enjoy dance but not enough to do it every day. Other children and families prefer to expose their children to a variety of activities and sports and put their children in activities besides dance.
There are also considerations about attention span and interest. Don't push a child beyond their interest level. If your child isn't asking for additional dance classes or doesn't seem interested in going to more than one class, it's usually best to stick with a single class. It's better to have your child enjoy one class than to push them into multiple classes and have them lose interest. Each child is different, so consider your child's interest level and schedule before making the decision. If needed, consult with the dance teacher to get their opinion about what would be best for your child.
Dance for kids in Northern Colorado and throughout the world is a great outlet for children of all ages. Knowing when to take multiple dance classes for children is a personal choice for each child and family but can lead to many great benefits in their physical activity and skills.