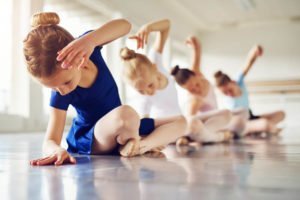 At our Greeley dance studio, we're proud to offer Greeley dance classes to kids in the surrounding area. Does your child dream of being a dancer? Are they constantly tapping their toes and coming up with new moves on the playground? Dance classes can turn their dancing dreams into reality.
Dance is a great outlet for kids that not only helps keep them healthy but also encourages creativity, self-expression, and confidence. Any child can dance and have a great time doing it!
Maybe you're looking for a class that allows them to express themselves through creative movement, their dream class isn't currently offered at another studio, or you want to build skill and emphasize poise and balance. A Dance Place is home to a wide variety of classes in Greeley. Dance classes nurture children of all ages. At A Dance Place, kids can learn to dance and express themselves in a safe, supportive environment. We're all about kids trying new things, taking risks, and having fun.
At A Dance Place, we've been working to improve the enjoyment and accessibility of dance in Greeley since 2010. We offer classes for kids starting at age three all the way through age 16 and beyond. We offer the following types of dance lessons:
Tap
Children learn the unique rhythm of tap and how to get in touch with the music. These high-energy classes are perfect for kids who love to be on the move.
Jazz
Our jazz classes help students at all levels understand how their bodies move and use that movement to create interesting stories. Jazz dancing is creative and unique. It's a great outlet for all kinds of children.
Ballet
This graceful dance is perfect for toddler ballerinas through teenagers. Students learn poise and balance as they leap, twirl, and spin. They express themselves through creative movement and beautiful songs.
Lyrical
Our dancers use their bodies to tell a story. Lyrical dancing is about emotion and connecting with the audience. Even our youngest dancers learn how dance can help them share what they are feeling.
Hip-Hop
Dance to some of today's hottest songs in our high energy hip-hop class. Not only is hip-hop great exercise but it's unlike any other type of dance out there and requires great body awareness. Hip-hop dancing helps with coordination and builds balance.
Kinderdance
This class builds on basic skills to expose children to a wide variety of music and dance. We highlight the child in every dimension and help them unlock their abilities and potential.
Preschool dance
For our youngest dancers, preschool classes help them understand the basics of music and dance. It's a creative outlet all children enjoy and the perfect introduction to dance. We make the class fun with games and creative play.
We also offer a variety of summer dance classes in Greeley. Just because school is out doesn't mean your child should stop moving! Summer dance classes are a great way to keep building skills and having fun.
Contact Us to Learn More About Our Greeley Dance Classes
Let your child embrace movement and get in touch with their inner dancer with our Greeley dance classes! Call today to discuss how we can make your child's dancing dreams come true. Contact A Dance Place by email or call us at 970-590-9530.
Leave A Review, Want To Hear From You!
How was your experience at our dance studio? At A Dance Place, we are passionate about providing our clients and students with the kind of experiences that compel them to share it, and we would love for you to share your thoughts about your experience with A Dance Place in Greeley, CO on one of these internet review sites!
Just click on any of the icon's below to get started and you will be directed to A Dance Place's unique Greeley studio social page. Or feel free to call us personally and express any feedback you'd like to share.
Top Reasons To Put Your Child In Dance Classes
Are you looking for an activity for your child that teaches useful life skills while also providing physical activity? Greeley dance classes can be a great option. Kids of all ages participate in a wide variety of dance lessons in an environment that is fun, encouraging, and active.
Here are the top reasons to put your child in dance classes.
Provides exercise.
Kids have a lot of energy, and one of the most important things they can learn is how to release that energy in a positive way. Dance classes provide a place for kids to exercise and move their bodies. This is especially important for active kids. As an added bonus, dance classes happen inside, which means they provide an outlet and place for exercise for kids year-round, no matter the weather. Dance lessons also encourage physical development and build flexibility, balance, strength, and a wide range of motion in kids. Teaching the body to move in new ways is useful, no matter what future dance lessons or sports a child participates in. Getting active and building healthy habits from a young age will help kids be active and healthy throughout their lives.
Boosts confidence.
Dance is new for many kids, especially the idea of learning a routine and performing it in front of other people. As kids try new things and are pushed out of their comfort zones, they realize that they can do hard things and master new concepts, which builds their confidence. That confidence is useful in all areas of life, from realizing their true potential in new activities to standing up for themselves at school. Kids who start dance at an early age build performance skills to last their entire lives and may find it easier to speak in front of a crowd or perform when they are older.
Encourages creativity.
Dance is an art form and a great way for kids to express themselves. Young children are still learning about their emotions and often don't have the words to describe what they are feeling, but dance provides a way for them to express their emotions and work through feelings without any words. Kids need a healthy outlet for their emotions so they don't keep things bottled up inside, and dance gives them a creative and safe place to let their emotions run free. Dance teaches creative movement and expression through movement and music, which inspires creativity in many other ways. Children learn how to solve problems by moving their bodies in different ways, which triggers problem-solving and all kinds of creative thought.
Creates friendships.
Dance classes introduce children to other kids their age who also have similar interests. Dance lessons are a safe space for kids to be themselves and get to know people they might not meet otherwise. Many friendships made as children at the dance studio last a lifetime. Although each dancer is responsible for their own movement, dance classes also teach teamwork as the group has to work together to create a routine. Children learn to encourage one another and help their peers to create something great together. The ability to interact with a wide variety of people and collaborate on something will stick with kids far beyond their dance classes.
Builds dedication.
Dance isn't easy. For many children, learning to move their bodies in new ways is challenging. But taking dance classes shows children the value of sticking with something, even when it is difficult. It teaches them to set goals and be dedicated to something. Even the youngest children can understand the hard work and dedication that goes into creating a dance routine, from first learning the steps to perfecting the moves and putting everything together. As children progress in dance classes, they learn to be self-disciplined and manage their time wisely. When they see the value and end result of their hard work, they will want to apply that hard work and dedication to other areas of their lives, including school and a future career.
Dance lessons for kids in Northern Colorado are incredibly valuable for all ages. Aside from a great physical outlet, dance classes teach many life skills that will set kids up for success in all areas of their futures.