Top 3 Best Dance Apps for Kids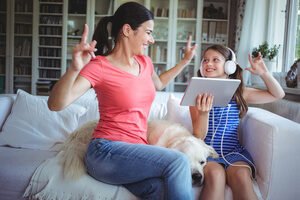 If your child is a mover and shaker, you may even need more than just signing them up for Greeley dance classes. You know the kids—the ones who are always moving and seem to have energy to spare. One of the best ways to give kids an outlet and promote dance and movement is through dance apps. Dance apps are easy to use! You can bring them anywhere on a mobile device, and they encourage fun exercise while teaching your kids some new moves. They're also fun to do with friends and can be a great social activity for kids. There are a lot of dance apps out there, but here are three dance apps for kids that we love.
Just Dance Now
This app has everything from the Just Dance video game but doesn't require a video game console or a big screen. Kids can choose a dance routine from more than 400 songs, including some of the hottest new releases. Users start by learning the routines before they practice and perform. There are dances for people of all skill levels. Users can connect with other dancers from around the world to dance with them in a safe and controlled space. You have to pay to access some songs or buy a membership to get the full Just Dance experience. Just Dance Now is designed to get people moving. It's a fun way to dance, but it's also great exercise. The app has a HealthKit feature to show users their total calories burned. Just Dance Now is a fun and social dance app that kids (and adults) will love. Click here to learn more about the Just Dance Now app.
Toca Dance
Toca Dance is a popular app that puts the dance power in kids' hands. Kids can design everything about a dance performance from the choreography and music to the location and costumes. Toca Dance is great for dancers at all levels and lets their creativity shine. Users in Toca Dance don't actually dance; they simply plan the moves for the animated characters. It's the perfect way to unleash creativity and tap into enthusiasm about dance. Toca Dance is totally customizable. Kids can create their own dance moves and put them together for a show-stopping performance. Kids are in charge of teaching the dance to their dancers, leading a rehearsal, and then putting on a performance. You can even record the performance and turn it into a shareable video. With tons of songs and characters, Toca Dance is sure to keep kids entertained for hours. Click here to see a preview of the Toca Dance app.
Hip Hop and Street Dance School
This app has the best of both worlds— it is a game that also teaches kids new dances moves. Users start by learning a dance and following the instructions of the dance mentor. To score a contract with the talent agent in the game, kids learn new dances and perform for the judges. They get to choose their costume, dance crew, and dance location before their big performance. The more dances they do, the more chances they have to earn points and climb up the charts. It's about more than just dance, it's also about creativity and finding the right look. Users can get their hair done in the salon, practice balance in the gym, and choose a killer outfit for the performance. This app is sure to keep kids dancing and busy as they try to impress the judges. Click here for more information about the Hip Hop and Street Dance School app.
No matter if you're at home or on the go, dance apps are a great way to keep kids moving and engaged when they are away from our dance studio. Check out these favorite dance apps and let your kids continue to enjoy the happiness that comes from dance!
Looking to sign your kids up for dance lessons? Contact A Dance Place today.